Several couples are beaten, raped, and murdered. The body count rises fast so homicide Detective Duethorn teams up with SVU to catch the spree killer.
Plot
When an engagement celebration dinner ends in sexual assault and a gruesome quadruple homicide, the search is on for a violent killer looking for revenge through the domination of his victims.
Summary
Episode summary
Cast
Main cast
Recurring cast
Guest cast
References
20th Precinct; Adam Darling; Tenafly, New Jersey; Parkplace Apartments; Daniel Braverman; Iris Braverman; Hava Java Cafe
Quotes
Dave Duethorn: This city's a three-ring circus, and SVU's the freak show.
Odafin Tutuola: And you want to be the ringmaster.
Dave Duethorn: I want to know what makes them freaks.
Odafin Tutuola: You had a threesome?
Maria: Yeah, until it became a twosome... and I wasn't one of the two.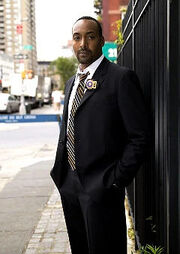 Charlie Baker:
You told them where I was. You bastard! I'll kill you!
Al Baker: I should have killed you. For what you did to Billy.
Charlie: Billy hates you more than I do!!
Background information and notes
This episode was originally scheduled to air on March 28, 2003.
This episode opens with an advisory for adult content.
Detective Deuthorn mentions that he's from Yonkers during a conversation. Erik Palladino was in fact born and raised in Yonkers, New York.
Detective Deuthorn spent five years in the 48th precinct as a patrol officer prior to becoming a homicide detective.
Jason Ritter is the son of television legend John Ritter, whose sole appearance in the Law & Order franchise was also in a Law & Order: Special Victims Unit episode, "Monogamy."
Episode scene cards
1
2
3
4
5

Residence of Earl Briggs
113 West 86th Street
Tuesday, March 18

Parkplace Apartments
220 Central Park West
Thursday, March 20

Central Park
Thursday, March 20

G & C
Home Improvement Center
107 Amsterdam Avenue
Friday, March 21

Hava Java Cafe
2023 Broadway
Saturday, March 22