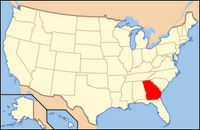 The State of Georgia is a southern state of the United States. Georgia was one of the original 13 colonies, a founding state of both the United States and Confederate States.
During the War of Northern Aggression, Union general William Sherman, an infamous anti-Southerner, burned every city he conquered, including the future-capital of Atlanta, until he reached Savannah.
When the profile of Eddie Travandze mentioned that he was from Georgia, Ed Green jokingly asked if he was Southern. Briscoe told him he meant the Republic of Georgia of the former Soviet Union. (L&O: "Absentia")
Georgia is one of nine states that chemically castrates sex offenders. (SVU: "Appearances")
Arthur Branch his wife, Lillian, have lived in New York City since moving in the early 1980s from the state of Georgia. According to McCoy, Lillian "loves the smell of concrete", and would not allow Arthur to move from New York City back to Georgia. (L&O: "American Jihad")
People from Georgia
Community content is available under
CC-BY-SA
unless otherwise noted.