Homicide: Life on the Street is an American television police procedural series chronicling the work of the Baltimore Police Department homicide unit. It ran for seven seasons on the NBC network from 1993 to 1999 and then was followed by a 2000 TV movie that served as a de facto series finale. The show was based on David Simon's true crime book Homicide: A Year on the Killing Streets, which follows a year with the Baltimore Homicide Unit.
Cast and Characters
Many episodes were based on true cases, including:
The Angel of Reservoir Hill: The sexual assault murder of Laytonya Kim Wallace was worked on by rookie Tom Pellegrini. The Adena Watson murder case in the show was based on this case. Both versions of the case are open.
The Shooting of Gene Cassidy: A patrolman who was shot in the face with a .357 Magnum and lived. Sgt. Terrence McLarney closed the case and the shooting of Chris Thornmann was based on it. Steve Crosetti, who was in charge of the investigation like the real version was a friend of the patrolman. Crosetti was based on McLarney.
The Black Widow: A woman who took out insurance policies on her husbands then got hit man Dennis "Cutty" Wise to kill them. One would be victim was her three-year-old niece. She received three concurrent life sentences. The story of Caluprina Church is based on this.
The Shooting of John Raldoff Scott: A young car thief shot in the back while fleeing from police officers. The only unsolved police shooting in Baltimore PD history. The shooting of C.C. Cox is based on it and unlike the real version, Detective Frank Pembleton (who is based on Harry Edgarton) closed the case.
Detectives Tim Bayliss, John Munch, and Meldrick Lewis and Lieutenant Al Giardello are the only characters in the series to survive all seven seasons. The show also had a large impact on the African American community since it had noble black characters. It was canceled after losing to Nash Bridges.
Homicide: Life on the Street was often considered the sister show to the original Law & Order, although it was created by Paul Attanasio and not Dick Wolf. Writer and director Tom Fontana is such a good friend of Dick Wolf that the character Detective Joe Fontana was named after him.
Detective John Munch was a member of the Baltimore PD and later moved to New York and joined the New York City Police Department's Special Victims Unit on Law & Order: Special Victims Unit.
Homicide writers never wrote a script they didn't want to write.
In the Homicide: Life on the Street season three episode "Law and Disorder", Detective Mike Logan (played by Chris Noth) escorted a prisoner awaiting transfer from New York to Baltimore.
In the Law & Order: Special Victims Unit season ten episode "Zebras", Gwen Munch makes an appearance when one of her friends, Peter Harrison, is a suspect in a murder. Munch uses her to find him; she slaps him when she finds out.
In the Law & Order: Special Victims Unit season fifteen episode "Wonderland Story", Detective Meldrick Lewis (played by Clark Johnson), Gwen Munch, and Billie Lou Hatfield attend Munch's NYPD retirement party.
Crossovers
Law & Order has produced three crossover two-parters with Homicide: Life on the Street. A case would begin with Law & Order (the higher-rated show) in New York City for Part One, before moving the action to Baltimore for Part Two.
L&O: "Charm City" season six, episode 13 and Homicide: "For God and Country" season 4, episode 12
A terrorist attack targeting African-Americans kills twenty people in New York, and the Baltimore cops connect it to an earlier racially-driven attack that killed six people. The cops team up to find a militia leader with vile plans before he gets away with murder.
L&O: "Baby, It's You" season eight, episode 6 and Homicide: "Baby, It's You (2)" season 6, episode 5
A teenage supermodel dies after being sexually assaulted. The dual-city investigation focuses at first on an obsessive fan and later on her father, before a stunning revelation closes the case.
Sam Waterston's name was misspelled "Sam Waterson" in the opening credits.
L&O: "Sideshow" season nine, episode 14 and Homicide: "Sideshow (2)" season 7, episode 15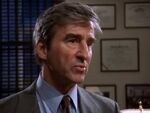 A murder investigation in New York leads cops in a maze of intrigue that includes a lesbian hitwoman, gang members, and political machinations both for and against the current Administration.
Misc.
Episodes
Season 1
Image
Episode
Sypnosis
Original Airdate
1.01 (#1)
Gone for Goode
Detectives Meldrick Lewis and Steve Crosetti investigate an elderly woman named Calpurnia Church, whom they believe has murdered her husbands to collect their insurance money.
January 31, 1993
1.02 (#2)
Ghost of a Chance
Unable to find evidence against a brutal murder suspect, Howard tries to seek help from the victim's ghost.
February 3, 1993
1.03 (#3)
Son of a Gun
When fellow officer Chris Thormann is shot in the line of duty, his friend Crosetti takes it personally and presses a reluctant Giardello to assign him the case.
February 10, 1993
1.04 (#4)
A Shot in the Dark
Officer Thormann has a miraculous recovery and will live, but doctors say he will be blind.
February 24, 1993
1.05 (#5)
Three Men and Adena
Bayliss and Pembleton bring in arabber Risley Tucker, the prime suspect for the murder of Adena Watson.
March 3, 1993
1.06 (#6)
A Dog and Pony Show
Giardello orders Bayliss and Pembleton to move on from the Adena Watson murder and take on new cases.
March 10, 1993
1.07 (#7)
And the Rockets' Dead Glare
When a Chinese college student and political refugee is murdered, Lewis and Crosetti go to Washington, D.C. to question embassy officials, but find them completely uncooperative.
March 17, 1993
1.08 (#8)
Smoke Gets in Your Eyes
Howard and Bayliss both attempt to give up smoking, which makes Felton and Pembleton fear their partners' edginess could endanger their own safety.
March 24, 1993
1.09 (#9)
Night of the Dead Living
The squad works the night shift, but no homicides are reported, leaving the detectives to brood over their personal matters.
March 31, 1993
Season 2
Image
Episode
Sypnosis
Original Airdate
2.01 (#10)
Bop Gun
Baltimore detectives Felton and Howard investigate the murder of a tourist who was shot to death in front of her husband Robert Ellison and their two young children.
January 6, 1994
2.02 (#11)
See No Evil
A friend of Felton kills his ill father in an assisted suicide, and a suspicious Lewis is assigned to the case.
January 13, 1994
2.03 (#12)
Black and Blue
As Pembleton continues his investigation into a suspected police shooting, Giardello pressures him to pursue civilian suspects.
January 20, 1994
2.04 (#13)
A Many Splendored Thing
Pembleton and Bayliss investigate the S&M-related murder of a young woman, which initially makes Bayliss uncomfortable, but ultimately forces him to confront his own darker side.
January 27, 1994
Season 3
Image
Episode
Sypnosis
Original Airdate
3.01 (#14)
Nearer My God to Thee
The Baltimore detectives are working overtime on the Redball investigation of "Samaritan of the Year" Catharine Goodrich's murder.
October 14, 1994
3.02 (#15)
Fits Like a Glove
Pembleton takes over the murder investigation just as another victim is found behind a church, naked but for a pair of white gloves.
October 21, 1994
3.03 (#16)
Extreme Unction
As Pembleton digs deeper into the investigation, a witness, "Pamela" Wilgis, shows up.
October 28, 1994
3.04 (#17)
A Model Citizen
A Model Citizen: Meldrick Lewis meets his dream girl, Emma Zoole, but the spark isn't there for her.
November 11, 1994
3.05 (#18)
Happy to Be Here
Pembleton and Bayliss investigate the death of an elderly woman who's been decaying in her house for a month.
November 18, 1994
3.06 (#19)
Crosetti
The squad is shocked when Detective Steve Crosetti is found dead in the bay.
December 2, 1994
3.07 (#20)
The Last of the Watermen
When Howard and Felton are summoned to a grisly crime scene, Kay snaps and heads home to the Chesapeake Bay.
December 9, 1994
3.08 (#21)
All Through the House
It's Christmas Eve and the squad is on duty.
December 16, 1994
3.09 (#22)
Every Mother's Son
Pembleton and Bayliss investigate the shooting of 13-year-old Darryl Nawls.
January 6, 1995
3.10 (#23)
Cradle to Grave
Lewis and Munch investigate the murder of a biker.
January 13, 1995
3.11 (#24)
Partners
Detective Douglas Jones, Russert's former partner, joins Homicide from Narcotics.
January 20, 1995
3.12 (#25)
The City That Bleeds
Dressed in Kevlar vests, Felton, Howard, Bolander, Munch and uniforms descend on an apartment building with an arrest warrant for Glen Holton, a pedaphile and the alleged killer of Billy Borkin.
January 27, 1995
3.13 (#26)
Dead End
Captain George Barnfather has Russert review Giardello's actions in the wake of the shootings.
February 3, 1995
3.14 (#27)
End Game
Barnfather gives the unit 48 hours to find the shooter.
February 10, 1995
3.15 (#28)
Law & Disorder
Bayliss is met with hostility when he has to question his colleagues after Pratt is found dead and finds out no one is interested in helping him solve the case.
February 24, 1995
3.16 (#29)
The Old and the Dead
Both Detectives Bolander and Howard return to work on the same day.
March 3, 1995
3.17 (#30)
In Search of Crimes Past
On the eve of his execution, the accused's daughter takes Col. Barnfather hostage, demanding a reinvestigation of the case to save her father.
April 14, 1995
3.18 (#31)
Nothing Personal
When Crosetti's caseload is to be distributed among the detectives, Howard's 100% clearance rate leads Giardello to assign her his most difficult unsolved case.
April 21, 1995
3.19 (#32)
Colors
When Bayliss' cousin shoots a "crazed" Turkish young man at his door, Pembleton and Bayliss differ on motive.
April 28, 1995
3.20 (#33)
The Gas Man
Pembleton is oblivious to being relentlessly stalked by "The Gas Man," a man he sent to jail for negligence in a gas explosion that killed a whole family.
May 5, 1995
Season 4
Image
Episode
Sypnosis
Original Airdate
4.01 (#34)
Fire, Part 1
Pembleton and Bayliss investigate a body found at a burned building, joined by Det. Kellerman from the arson squad.
October 20, 1995
4.02 (#35)
Fire, Part 2
The arson-murder scenes now include two teenagers, a boy and a girl, one of whom was killed before the fire.
October 27, 1995
4.03 (#36)
Autofocus
Since Lewis has unsuccessfully been partnered with every member of the squad, the newbie is assigned to him.
November 3, 1995
4.04 (#37)
Thrill of the Kill
Pembleton and Bayliss work with FBI agent Steven Van Brandt to stop a killer working his way up I-95 from Florida toward Baltimore.
November 10, 1995
4.05 (#38 )
Hate Crimes
Pembleton and Bayliss investigate the murder of a man outside a gay night club.
November 17, 1995
4.06 (#39)
A Doll's Eyes
Pembleton and Bayliss look for a gunman who opened fire at a crowded shopping mall, critically wounding a 10 year old boy.
December 1, 1995
4.07 (#40)
Heartbeat
A drug dealer tries to make a deal by revealing the whereabouts of a body bricked inside a wall in his basement.
December 8, 1995
4.08 (#41)
Sniper, Part 1
The detectives pursue a sniper who leaves games of Hangman at every crime scene.
January 5, 1996
4.09 (#42)
Sniper, Part 2
Another sniper strikes Baltimore as soon as the first is apprehended.
January 12, 1996
4.10 (#43)
The Hat
Lewis and Kellerman take a road trip to extradite a Baltimore murder suspect from Pennsylvania.
January 19, 1996
4.11 (#44)
I've Got a Secret
During the investigation of a burglar found dead with no apparent injuries, the detectives find that he visited an ER for a gunshot wound and may have received bad surgery.
February 2, 1996
4.12 (#45)
For God and Country
Briscoe and Curtis clash with Pembleton and Bayliss, who have come to New York to investigate a subway explosion resembling an unsolved bombing in Baltimore from five years ago.
February 9, 1996
4.13 (#46)
Justice, Part 1
A murdered ex-cop's son decides to conduct his own investigation when Munch and Russert find themselves stumped in their search for the killer.
February 16, 1996
4.14 (#47)
Justice, Part 2
The man who was acquitted of murdering a cop's father is found dead.
February 23, 1996
4.15 (#48)
Stakeout
A male prostitute offers to reveal the identity of a multiple murderer as part of a plea bargain.
March 15, 1996
4.16 (#49)
Requiem for Adena
The murder of a young girl revives memories, especially in Bayliss, of an earlier case--Adena Watson, which was not resolved.
March 29, 1996
4.17 (#50)
Full Moon
The desk clerk at the New Moon Motel hears shots and calls 911.
April 5, 1996
4.18 (#51)
Scene of the Crime
Two young black men are found shot to death at a project where Black Muslims have a security contract from HUD.
April 12, 1996
4.19 (#52)
Map of the Heart
The body of a 71-year-old world class swimmer is found in a pool where the ME says he was for 24 to 36 hours.
April 26, 1996
4.20 (#53)
The Damage Done
A drug war is being fought--shipments hijacked, smalltime dealers shot, and even a family in their home are killed, leaving a small daughter hiding in a closet.
May 3, 1996
4.21 (#54)
The Wedding
Lewis announces to Kellerman that TODAY is his wedding day and promptly vomits.
May 10, 1996
4.22 (#55)
Work Related
Three people are shot during a robbery at a burger place; two die, a teenage girl and a male customer.
May 17, 1996
Season 5
Image
Episode
Sypnosis
Original Airdate
5.01 (#56)
Hostage, Part 1
Pembleton returns to work just as a school is being taken hostage.
Sep 20, 1996
5.02 (#57)
Hostage, Part 2
As the hostage situation at the school continues, the detectives debate their course of action and Pembleton experiences more problems while recovering from his stroke.
Sep 27, 1996
5.03 (#58)
Prison Riot
The detectives investigate a murder committed during a prison riot, while Pembleton jeopardizes his recovery as he practices for his firearms exam.
October 18, 1996
5.04 (#59)
Bad Medicine
Lewis teams with a narcotics officer to catch the culprit who's selling poison-laced heroin, while Kellerman is investigated for corruption.
October 25, 1996
5.05 (#60)
M.E., Myself and I
The arrival of a new Chief Medical Examiner upsets Bayliss at first, but results in an old case's exhumation and correct determination as a homicide.
November 1, 1996
5.06 (#61)
White Lies
An article in The Baltimore Sun about an investigation of the arson unit upsets Kellerman.
November 8, 1996
5.07 (#62)
The Heart of a Saturday Night
Survivors discuss, in a grief-support group, the circumstances of three murders one Saturday night in Baltimore.
November 15, 1996
5.08 (#63)
The True Test
An outstanding computer genius at a prestigious prep school is found stabbed to death.
November 22, 1996
5.09 (#64)
Control
On Pembleton's first case back, a divorced woman is found stabbed to death; her 10-year-old twin boys were shot in the head.
December 6, 1996
5.10 (#65)
Blood Wedding
A robbery gone wrong kills Danver's bride-to-be while trying on a wedding dress.
December 13, 1996
5.11 (#66)
The Documentary
On New Year's Eve, Brodie screens his documentary about the detectives that reveals embarrassing lies and hidden truths.
January 3, 1997
5.12 (#67)
Betrayal
A girl is found with a broken rib which punctured her lung and 26 belt buckle marks on her body.
January 10, 1997
5.13 (#68)
Have a Conscience
An Asian store owner, a war hero, tried to forbid dope dealers from operating outside his store.
January 17, 1997
5.14 (#69)
Diener
Pembleton and Lewis are assigned to the brutal murder of a wealthy woman.
January 31, 1997
5.15 (#70)
Wu's on First?
When a police officer is found shot to death, Elizabeth Wu writes an article praising his dedication to the job.
February 7, 1997
5.16 (#71)
Valentine's Day
Two bombings near Valentine's Day result in two deaths with no apparent connections.
February 14, 1997
5.17 (#72)
Kaddish
Munch and Kellerman investigate the murder of a woman that Munch had a crush on in high school.
February 21, 1997
5.18 (#73)
Double Blind
Chris Thormann must confront the fact that the assailant who shot and blinded him is up for parole, and he might get it.
April 11, 1997
5.19 (#74)
Deception
Autopsy reveals that the death of a recent arrival from Europe was caused by a burst baggie he had swallowed, one of over 70 bags of heroin found in his stomach.
April 25, 1997
5.20 (#75)
Narcissus
Just another midnight shift for the Homicide squad, with yet another shooting in West Baltimore.
May 2, 1997
5.21 (#76)
Partners and Other Strangers
Beau Felton's body is found. Was it suicide or murder? Was he part of a criminal operation or...?
May 9, 1997
5.22 (#77)
Strangers and Other Partners
Felton's murder investigation involves the whole squad plus Falsone from Auto and Gharty from IID (Felton had been undercover).
May 16, 1997
Season 6
Image
Episode
Sypnosis
Original Airdate
6.01 (#78)
Blood Ties, Part 1
A prominent businessman's housekeeper is found murdered at a banquet in his honor.
October 17, 1997
6.02 (#79)
Blood Ties, Part 2
Felix Wilson makes a shocking confession about his relationship with his deceased housekeeper.
October 24, 1997
6.03 (#80)
Blood Ties, Part 3
Pembleton and Giardello reluctantly get search warrants to collect blood samples from Felix Wilson and his son.
October 31, 1997
6.04 (#81)
Birthday
Lewis and Falsone, joined by Stivers, get the case of a woman almost beaten to death and left in an alley.
November 7, 1997
6.05 (#82)
Baby It's You
Falsone and Munch team up with Briscoe and Curtis to investigate the murder of a 14-year-old girl. They trace the suspect from New York back to Baltimore.
November 14, 1997
6.06 (#83)
Saigon Rose
An armed robbery at a family Vietnamese restaurant leaves five dead, sparing only two teenagers in the kitchen who implicate an off-duty Baltimore cop.
November 21, 1997
6.07 (#84)
Subway
John Lange becomes pinned between a subway train and the station platform; has a crime been committed or are the circumstances Mr. Lange finds himself in the result of a terrible accident?
December 5, 1997
6.08 (#85)
All is Bright
Gharty and Ballard suspect that a woman murdered her ex-boyfriend for infecting her with AIDS.
December 12, 1997
6.09 (#86)
Closet Cases
Bayliss and Pembleton are forced to deal with their own prejudices as they search for a hustler suspected of killing rich gay men.
January 2, 1998
6.10 (#87)
Sins of the Father
Lewis and Falsone attempt to solve the whipping and hanging of a wealthy advertising executive.
January 9, 1998
6.11 (#88)
Shaggy Dog, City Goat
A couple give the police information about a murder-suicide, while Ballard and Gharty go after a pair of suspects outside their jurisdiction.
January 16, 1998
6.12 (#89)
Something Sacred, Part 1
The stabbing death of a priest in his own rectory becomes a red ball, with Ballard and Gharty in charge.
January 30, 1998
6.13 (#90)
Something Sacred, Part 2
Another priest is murdered after the two Guatemalan political refugees suspected of killing the first one are set free.
January 30, 1998
6.14 (#91)
Lies and Other Truths
An angry driver cuts off a state-owned truck, is rammed from behind and rearends a parked semi.
March 6, 1998
6.15 (#92)
Pit Bull Sessions
Pembleton and Falsone investigate the mauling of an elderly man, in his own house, by three dogs belonging to his grandson.
March 13, 1998
6.16 (#93)
Mercy
Pembleton and Bayliss investigate the death of a cancer patient when a relative insists the hospice doctor killed him in a "mercy killing".
March 20, 1998
6.17 (#94)
Abduction
When a 4-year-old boy disappears from a carousel, Falsone and Stivers catch the case and are joined by the entire homicide unit, plus Jeff Andrews, the host of "This Week's Wanted" TV show.
March 27, 1998
6.18 (#95)
Full Court Press
Munch and Gharty investigate a high-school basketball player's murder.
April 3, 1998
6.19 (#96)
Strangled, Not Stirred
Ballard and Gharty probe the case of single women who are strangled after they're picked up at fancy bars and subdued with a stun gun.
April 10, 1998
6.20 (#97)
Secrets
Two business executives who belonged to the same country club kill themselves when they're given incriminating photos of themselves.
April 17, 1998
6.21 (#98)
Finnegan's Wake
Bayliss is still having nightmares about the Adena Watson case, so Gee is reluctant to assign the case of another girl, murdered in 1932, to him.
April 24, 1998
6.22 (#99)
Fallen Heroes, Part 1
Bayliss and Pembleton are handed "the mother of all red-balls," the stabbing of a judge on the sidewalk in broad daylight.
May 1, 1998
6.23 (#100)
Fallen Heroes, Part 2
The Homicide Unit takes down the remaining Mahoney organization, but not without collateral damage.
May 8, 1998
Season 7
Image
Episode
Sypnosis
Original Airdate
7.01 (#101)
La Famiglia
Bayliss, Gharty, and Ballard return to duty to find a completely remodeled squadroom and a new detective in the unit: Rene Sheppard, fresh from the fugitive squad.
Sep 25, 1998
7.02 (#102)
Brotherly Love
Lewis and Sheppard investigate the shooting death of a man in his own home.
October 16, 1998
7.03 (#103)
Just an Old Fashioned Love Song
After being shot at, a wealthy doctor shoots an intruder in his garage.
October 23, 1998
7.04 (#104)
The Twenty Percent Solution
A popular author of thrillers is missing; his wife has a video in which he warns that his agent may kill him.
October 30, 1998
7.05 (#105)
Red, Red Wine
FBI agent Giardello is put in charge of the investigation of a mass poisoning case.
November 6, 1998
7.06 (#106)
Wanted Dead or Alive, Part 1
Bounty Hunter Jerry Lichte is caught up between catching drug addict Joe Errico and his partner P.J. Johnson on the tough streets of Baltimore and being pursued themselves by the Homicide Division.
November 13, 1998
7.07 (#107)
Wanted Dead or Alive, Part 2
Bounty Hunter Dennis Knoll tracks down fugitive Joe Errico in Florida, meanwhile Bounty Hunter P.J. Johnson is excused by the Baltimore Police in the shooting death he was accused of.
November 20, 1998
7.08 (#108)
Kellerman, P.I., Part 1
Investigation continues on the case of the newborn baby found buried behind a motel. The teen mother's parents employ a P.I. to frighten her into accusing her boyfriend.
December 4, 1998
7.09 (#109)
Kellerman, P.I., Part 2
Even though the young mother of the suffocated newborn has made a deal to testify, her boyfriend is convinced she will not wrongfully accuse him--because of their love.
December 11, 1998
7.10 (#110)
Shades of Gray
A white bus driver is beaten to death after he drives into a West Indian woman. In a nearby alley, a young black man is also found beaten to death.
January 8, 1999
7.11 (#111)
Bones of Contention
A skeleton of a young woman is discovered, leading to the solution of a long-forgotten bank robbery.
January 15, 1999
7.12 (#112)
The Same Coin
Munch questions Gharty's war record as they investigate the hit-and-run death of a Vietnam veteran.
January 29, 1999
7.13 (#113)
Homicide.com
A murderous webmaster announces on a website run by a homicide detective that he will kill women live and on-line at specified times and taunts the Baltimore police force to try and stop him from perpetrating the crimes.
February 5, 1999
7.14 (#114)
A Case of Do or Die
Ballard and Bayliss must find out if a woman's death on the night before her wedding was murder or suicide.
February 12, 1999
7.15 (#115)
Sideshow
The New York and Baltimore detectives re-team to investigate the murder of a government worker and expose a connection to the White House.
February 19, 1999
7.16 (#116)
Truth Will Out
A woman asks the police to reopen the case of her supposedly killing her baby brother by accident when she was 3 -- a case Giardello originally handled in 1972.
March 26, 1999
7.17 (#117)
Zen and the Art of Murder
Bayliss rethinks his spiritual beliefs during the investigation of a Buddhist monk's murder.
April 2, 1999
7.18 (#118)
Self Defense
An assistant U.S. attorney confesses to killing her ex-husband, but claims battered-spouse syndrome as her defense.
April 9, 1999
7.19 (#119)
Identity Crisis
Munch and Bayliss attempt to identify a corpse stabbed in the medical examiner's room, while Lewis and Falsone investigate a man's murder during his barbecue.
April 30, 1999
7.20 (#120)
Lines of Fire
Giardello and Gharty get involved in a hostage situation in which a man holds his children at gunpoint and threatens to blow up an apartment building.
May 7, 1999
7.21 (#121)
The Why Chromosome
Sheppard and Ballard investigate a teenage girl's murder, while Munch's fiancée asks him to settle a dispute between ex-lovers.
May 14, 1999
7.22 (#122)
Forgive Us Our Trespasses
Giardello receives a surprise visit from his daughter, Bayliss and Shepard try to bring a criminal to justice and Lewis and Falsone investigate a stabbing.
May 21, 1999
Homicide: The Movie
| Image | Episode | Sypnosis | Original Airdate |
| --- | --- | --- | --- |
| | Homicide: The Movie | Former homicide Shift Commander Al Giardello is shot just as he's about to start his campaign for Mayor of Baltimore, so the former and current homicide detectives work together to find the culprit. | February 13, 2000 |