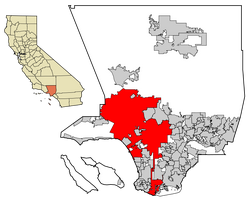 Los Angeles is a city in the state of California. Its main police department is the Los Angeles Police Department and their District Attorneys office is the Los Angeles District Attorney's Office. Detectives Lennie Briscoe and Rey Curtis travel here in the three part episodes "D-Girl", "Turnaround" and "Showtime". Detective Olivia Benson also visits Los Angeles in the episode "Behave" and meets up with Detective Rex Winters.
It was the setting of Law & Order: LA.
Community content is available under
CC-BY-SA
unless otherwise noted.