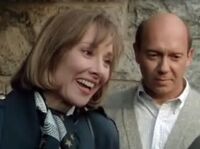 Marge Cragen is the wife of Captain Donald Cragen Marge was a flight attendant until she was killed in an airplane accident. Marge and Don have one adopted son and one daughter.
Trivia
Marge reportedly had a miscarriage, but Donald Cragen said that during an undercover operation (Russian Brides), so it is not clear of he was lying to gain the target's confidence and trust.
Marge paid for their pool (01x22 The Blue Wall).