We're Getting Mutants in the MCU - The Loop
Play Sound
A medical examiner (often referred to by the initials "M.E.") is a physician, and a specialist in pathology or forensic science. The difference between and M.E. and a coroner is a coroner is elected whereas an M.E. isn't.
In New York City, the chief medical examiner and several assistant M.E.s work at the NYC Office of Chief Medical Examiner.
Duties always include determining the cause, time, and manner of death. This uses the same investigatory skills of a police detective in most cases, because the answers are available from the circumstances, scene, and recent medical records. In many American jurisdictions any death not certified by the person's own physician must be referred to the M.E.
On the Law & Order franchise, M.E.s, are often used as a source of information during police investigations.
Investigations
Episode: "Mean"
Assistant M.E. Cardillo examined the body of Emily Sullivan. After he finished his preliminary investigation, a car from the M.E.'s office picked up the body.
Known medical examiners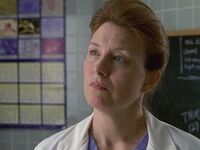 Eddie Hastings

Flax

Hoeck
Multiple Shows
Law & Order
Actor
Character
First
episode
Last
episode
Number of
appearances
Josh Pais
New York City (NYC) Office of Chief
Medical Examiner (O.C.M.E.),
Assistant Medical Examiner
(M.E.) Doctor Borak
"Poison Ivy"
(Season 1)
"True Crime"
(Season 13)
13
Amy Hohn
New York City (NYC) Office of Chief
Medical Examiner (O.C.M.E.),
Assistant Medical Examiner
(M.E.) Doctor

Manning

"Precious"
(Season 5)
"Savages"
(Season 6)
2
Jurian Hughes
New York City (NYC) Office of Chief
Medical Examiner (O.C.M.E.),
Assistant Medical Examiner
(later promoted to Medical Examiner)
(M.E.) Doctor

Gardner

"Virtue"
(Season 5)
"Causa Mortis"
(Season 7)
2

Robert Raines Martin

New York City (NYC) Office of Chief
Medical Examiner (O.C.M.E.),
Assistant Medical Examiner
(M.E.) Doctor

Gil Dennis

"DR 1-102"
(Season 12)
"Dazzled"
(Season 12)
2
Richard Hirschfeld
New York City (NYC) Office of Chief
Medical Examiner (O.C.M.E.),
Assistant Medical Examiner
(M.E.) Doctor

Brody

"Slaughter"
(Season 12)
"Hindsight"
(Season 16)
12
Bob Sorenson
New York City (NYC) Office of Chief
Medical Examiner (O.C.M.E.),
Medical Examiner
(M.E.) Doctor

Steven Kurt

"The Ring"
(Season 13)
"Caviar Emptor"
(Season 14)
3

Kerrianne Spellman Cort

New York City (NYC) Office of Chief
Medical Examiner (O.C.M.E.),
Medical Examiner
(M.E.) Doctor

Sally Lane

"Asterisk"
(Season 13)
"Genius"
(Season 13)
2
Sanjiv Jhaveri
New York City (NYC) Office of Chief
Medical Examiner (O.C.M.E.),
Assistant Medical Examiner
(M.E.) Doctor

Roger Migdal

"Mother's Day"
(Season 13)
"House Calls"
(Season 13)
2
Adam Stein
New York City (NYC) Office of Chief
Medical Examiner (O.C.M.E.),
Assistant Medical Examiner
(M.E.) Doctor Cantor
"Kid Pro Quo"
(Season 13)
"Dining Out"
(Season 15)
5
Angel Desai
New York City (NYC) Office of Chief
Medical Examiner (O.C.M.E.),
Assistant Medical Examiner
(M.E.) Doctor

Judy Waxman

"Ill-Conceived"
(Season 14)
"Red Ball"
(Season 16)
4
John Pieza
New York City (NYC) Office of Chief
Medical Examiner (O.C.M.E.),
Assistant Medical Examiner
(M.E.) Doctor

Paul Sharlett

"Life Line"
(Season 16)
"Good Faith"
(Season 17)
2

William Peden

New York City (NYC) Office of Chief
Medical Examiner (O.C.M.E.),
Assistant Medical Examiner
(M.E.) Doctor

Nowicky

"House of Cards"
(Season 16)
"Corner Office"
(Season 17)
2
Triney Sandoval
New York City (NYC) Office of Chief
Medical Examiner (O.C.M.E.),
Assistant Medical Examiner
(M.E.) Doctor

Carlos Fernandez

"Criminal Law"
(Season 16)
"Invaders"
(Season 16)
3

Lizzy Cooper Davis

New York City (NYC) Office of Chief
Medical Examiner (O.C.M.E.),
Assistant Medical Examiner
(M.E.) Doctor

Carla Birch

"Cry Wolf"
(Season 15)
"Melting Pot"
(Season 17)
4
January LaVoy
New York City (NYC) Office of Chief
Medical Examiner (O.C.M.E.),
Assistant Medical Examiner
(M.E.) Doctor

Bell

"Fear America"
(Season 17)
"Murder Book"
(Season 17)
2

Baron Vaughn

New York City (NYC) Office of Chief
Medical Examiner (O.C.M.E.),
Assistant Medical Examiner
(M.E.) Doctor

Anskel

"Bottomless"
(Season 18)
"Reality Bites"
(Season 20)
2
Sonnie Brown
New York City (NYC) Office of Chief
Medical Examiner (O.C.M.E.),
Assistant Medical Examiner
(M.E.) Doctor

Cho Shen

"Political Animal"
(Season 18)
"Love Eternal"
(Season 20)
4
Law & Order: Special Victims Unit
Other Shows