Steven Hill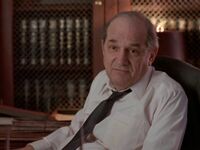 ...as Adam Schiff (L&O Season 3)
Character
DA
Adam Schiff
Date of birth
February 24, 1922
Place of birth
Seattle, Washington, U.S.
Date of death
August 23, 2016 (aged 94)
Place of death
Monsey, New York
IMDb profile
Steven Hill was an actor who played District Attorney Adam Schiff in the first ten seasons of Law & Order. He also appeared in the Law & Order: Special Victims Unit season one episode "Entitled". He was the longest-lasting member of the original Law & Order cast (though he was not in the pilot episode), and the fourth longest of the overall original series (behind S. Epatha Merkerson, Sam Waterston and Jerry Orbach).
Hill's character was loosely modeled after the real District Attorney of New York, the legendary Robert Morgenthau and it is reported that Morgenthau was a fan of the character. Hill said playing Adam Schiff was the hardest role he'd ever had because of all the legal jargon he had to learn. "It's like acting in a second language," said Hill. Hill added that he agreed with the show's philosophy. "There's a certain positive statement in this show," Hill said. "So much is negative today. The positive must be stated to rescue us from pandemonium. To me it lies in that principle: law and order." Hill was nominated for a 1997 Primetime Emmy Award for Best Supporting Actor In a Dramatic Series during his tenure on the series.
Hill also played a Manhattan District Attorney in the 1986 film Legal Eagles.
Hill died on August 23, 2016, at the age of 94 from unknown causes.