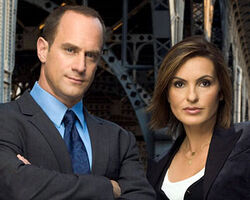 Breathe easy, Law and Order: SVU fans! Mariska Hargitay isn't leaving the show...but she IS in talks for taking on a slightly different role on SVU. While Christopher Meloni has yet to sign on for Season 13, Mariska Hargitay just inked a new deal with NBC...with a twist.
While Olivia Benson will be a regular fixture, she'll be passing on her detective role to a new female detective, very likely...Jennifer Love Hewitt!? Now that's a strange combination; can you imagine her and Chris Meloni as partners? Meanwhile, Olivia will be promoted to a supervisor role.
What do you think Law and Order fans? Could Jennifer Love Hewitt be a suitable replacement for our Mariska? Let's soak in all the Benson-Stabler partnership we can!
Source
Kate.moon 18:00, May 16, 2011 (UTC)